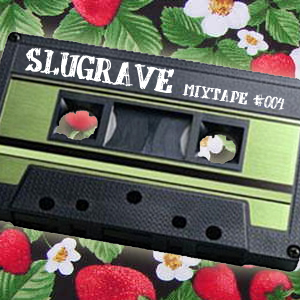 Mixtape 4 shows off the slugrave diversity with two fresh as lettuce mixes for you to munch on.
Slugrave Mixtape #004 by slugrave
Slugrave Mixtape #004 - Side A
01. Gigi Masin 'Clouds'
02. The Memory Band 'Come Wander With Me'
03. Doves 'Birds Flew Backwards (Chris Watson Remix)'
04. War 'Four Cornered Room'
05. Barefoot Jerry 'Friends'
06. Hiss Golden Messenger 'John Has Gone To The Light'
07. Bob Welch 'Future Games'
08. Bob James 'El Verano'
09. Roy Buchanan 'You're Not Alone'
Slugrave Mixtape #004 - Side B
01. DJ Moms & the Amazinggaijin 'Sabro (Subvader Remix)' [Top Billin]
02. Kito & Reija Lee 'Broken Hearts' [Mad Decent]
03. Om Unit 'The Corridor' [Terroryhthm]
04. The 13th Tribe 'We Are Many' [Ugly Boy]
05. J Bevin 'Zulu (Slugbahton Edit)' [Deep Teknologi]
06. Roska & Jamie George 'Wonderful Day' [Dave Nada Moombahton Edit]
07. Africa Hitech 'Our Love' [WARP]
08. Quest 'Smooth Skin' [Deep Medi Muzik]
09. Nochexx 'Smashing Your System' [Werkdiscs]
10. Ghostpoet 'Survive It feat. Fabiana Palladino (Quest's Guidance Mix) [Brownswood]
11. Martyn Slott 'Pointing Fingers' [All City]
12. Nico Muhly 'The Only Tune – III: The Only Tune feat. Sam Amidon' [Bedroom Community]
DOWNLOAD
oooze on and join the vibe ...
Website
|
Facebook
|
Twitter
|
Soundcloud
|
Mixcloud
|
Last.fm
|
Spotify
|
Youtube
|
T-Shirts
Benny.