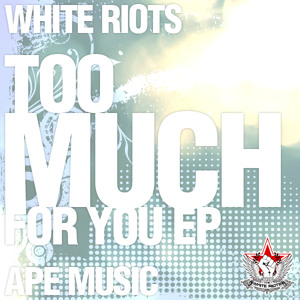 BUY ME FROM BEATPORT
Ape Towers would like to welcome on board to the Ape Music famalam the incredibley talented new act 'The White Riots'
We are very proud to bring you the debut EP of massively cool bass n breaks bizzness 'Too Much for you'.
As usual I was going to write some comedy tinged work of pure genius but in reality there is nothing more to be be said about this release except that it is 4 tunes of varying degrees of f*ckin awesome!! 'Let the music do the talking' as they say!!
From badman bass music to proper electro-breaks action every tune on this EP is without a doubt worthy of being a single in its own right so you mofos have yourself one hell of an EP here!!
White Riots 'Too Much For You EP' [APE033]
01. White Riots 'Too Much For You'
02. White Riots 'Culture Bass'
03. White Riots 'Sole Step'
04. White Riots 'Fresh To Swing'
Out Monday 26th March on Beatport
Aquasky - BOOOOOM!!! love it
Mixmag Breaks - Liking Fresh to swing!
Jay Cunning - heavyweight Bass EP - niiiiiice!
Hanumantribe - CULTURE BASSSSSS!! YO YO YO!
Schema - Some proper breakbeat action here, class E.P
Benny.