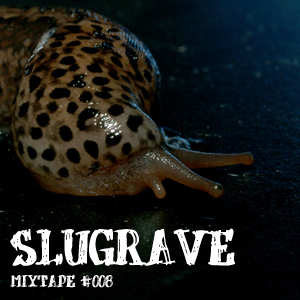 Hot on the tail of Slugrave #007 we bring you the 8th mixtape. Side A is a quirky mix of blues and country funk with a few old gems thrown in. Side B gets all beardy with some folk and builds it up into pure Slugrave.
Better be quick on this one, 100 downloads available of each side. The last mix reached it download limit in less than a week.
Huge thanks to Dave Green for #007 and a big welcome to our new friends from New Zealand.
The deadly slug is coming.... oooii
Slugrave Mixtape #008 by slugrave
Slugrave Mixtape #008 - Side A
01. Psychemagik 'Valley of Paradise'
02. Roberto Cravallo 'Jungle Time (Edit)'
03. Nightmares on Wax 'Bless My Soul'
04. Stupid Human 'Swamp Funk'
05. Sabres of Paradise 'Wilmot'
06. Little Axe 'Ride on (Fight on) (Fluke Mid-Fi Surprise)'
07. Jeb Loy Nichols 'Countrymusicdisco45'
Slugrave Mixtape #008 - Side B
01. Lykke Li 'I Know Places'
02. Radiohead 'Seperator (Four Tet Remix)'
03. Benga and Coki 'Night (Moonshine Geenus Remix)'
04. The Orb 'Outlands (Fountains Of Elishia Mix)'
05. Green Velvet ft Russoul 'Millie Vanillie'
06. Pearson Sound 'Stifle'
07. Canblaster 'Clockwork (Slugrave Edit)'
08. Skream 'Sea Sick'
09. DJ Hell 'The Disaster (Ink and Needle Remix)'
10. Toddla T 'Watch me Dance (Andrew Weatherall Remix)'
11. Holy Other 'Touch'
Benny.